How Pet Therapy Helps the Elderly
Pet therapy or animal-assisted therapy has been found to have several health benefits for older adults in numerous studies. From physical fitness to mental health, animals have a certain therapeutic impact on one's health, making them excellent companions for the elderly.
Pet Therapy for Physical Fitness
Studies have shown that pet ownership can significantly reduce the number of cardiovascular problems reported each year. This is a huge finding, especially since cardiovascular disease is the biggest cause of death in the US.
According to research, people who have pets are at a lower risk of hypertension and abnormal heart behavior.  In fact, they tend to outlive individuals who don't have pets. Older adults who experience pet therapy reportedly have a greater survival rate and lower risks of heart disease.
Apart from this, pet therapy is also a great way for older individuals to stretch their legs and get some exercise on a regular basis. Depending on their own mobility, they can take their pets out for walks or simply participate in feeding and cleaning up after them inside the house.
Spending quality time with their pets, be it dogs or birds, can help them relax and also stay active.   It stabilizes their heart rate, reduces stress, and keeps them involved with their pets even if means getting some fresh air outside or playing "fetch".
How It Helps with Mental Health
Physical fitness isn't the only thing pet therapy is helpful for. It also plays a huge role in improving one's mental health.
Ask anyone about their pets, and they'll tell you how happy their animal companions make them. For most pet owners, their pets are a part of their family, as close to them as any other family member. The simple fact is that animals make us happy, and thus, we feel a lot better when surrounded by our pets.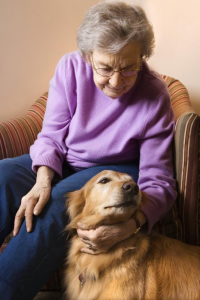 For senior loved ones, this is even more fruitful as it helps in calming their nerves and keeping them relaxed. By reducing mental stress and relieving anxiety, it enables them to interact with their loyal friends. Being with their pet can provide emotional support and stability, especially during stressful situations. Not to mention, caring for the animals gives them a sense of self-confidence and boosts their self-esteem as they feel responsible for their pets' needs.
Exposure to pets also helps elderly individuals enhance their socialization skills. It's particularly beneficial for individuals who struggle with articulating their thoughts or hesitate to express their emotions. In the company of their pet, they can be expressive and share their thoughts more easily. This ultimately helps them communicate better with their family and friends as well, while giving them the assurance that they're being heard without judgment.
AvantGarde Senior Living & Memory Care in Calabasas has a pet-friendly policy, and encourages animal-assisted therapy at their senior living community.
Call us at (818) 881-0055 to learn more about our senior living homes!