Eating Healthy: A Caregiver's Guide
When it comes to dietary planning, there's no standard rule that applies to all individuals. Everybody has their own nutritional needs, and it's important for caregivers to understand these before they can proceed with designing meal plans.
Moreover, eating healthy entails more than just cooking the right set of ingredients. Here're a few tips for caregivers to implement a healthy eating lifestyle for their senior attendees.
Be Observant During Mealtimes
Mealtimes are a chance for you to obtain valuable insight into your senior attendee's eating habits and food preferences. By simply observing their eating patterns during breakfast, lunch, or dinner, you can pick up a lot about what they like and dislike, as well as their eating concerns.
Take for instance your elderly loved one's behavior when they're given porridge for breakfast, as opposed to eggs and toast. Do they seem to prefer one over the other? Do they always refuse a certain item in meals? Do they find it easier to drink milk through a straw instead of directly from the glass?
Being observant during mealtimes also helps you detect any danger signs of them having trouble swallowing or chewing their food. In case they develop a severe and sudden coughing fit or start to choke, you can swiftly help them out in that scenario. Keeping an alert eye out for any possible eating mishaps can help prevent them and make mealtimes easier for your senior loved one.
Make Mealtimes Enjoyable
Mealtimes don't have to be dull and monotonous! Just because your elderly loved one needs to have their meals at a specific time of the day, due to either personal preferences or medical requirements, doesn't mean they can't have fun with their food. In fact, if they enjoy their foo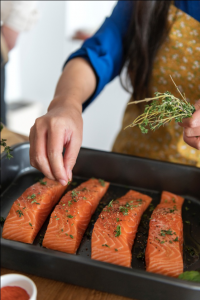 d, they're likely to be in a better mood as well and actually look forward to their meals.
To avoid mealtimes becoming a boring and mechanical affair, try mixing up the routine a bit. Have meals together as a family, and don't hold back from experimenting with new flavors and dishes. Make meal preparation fun for yourself too, so that you may enjoy it as well. You can even involve your loved one in this activity, having them assist you with sorting out the vegetables or peeling the fruits, as long as it doesn't tire them.
Be Wary of Dietary Restrictions
Know your senior loved one's dietary needs before you begin meal planning and preparing. If they suffer from a chronic illness or a medical condition that requires them to be extra careful if what they eat, make sure you're aware of the restrictions and recommendations.
It's best if you consult with a certified dietician for this. This'll help you stay on the right track while shopping for ingredients and preparing meals, and ensure that your loved one is getting the healthiest options.
At AvantGarde Senior Living & Memory Care, our skilled nursing staff is very particular about each of our resident's dietary needs, and provides a pleasant dining environment for them to have their meals at.
Call us at (818) 881-0055 to get in touch with our senior care team in Calabasas!