Financing Senior Living – Pressing Questions Families Have
Over the past decade, senior living communities and services have changed quite a bit. With each update to the rules and regulations for eligibility of Medicare and Medicaid, the choices and options available for senior living communities also change. This leads to a lot of confusion regarding the financing options available for senior and assisted living.
There are many misconceptions and benefits that adult children overlook when they begin to search for senior living communities for their loved ones. We've compiled a list of the most common questions regarding financing for senior care to provide valuable guidance for families.
Q1. How Much Does It Cost?
This is often the first question asked by families of the loved ones who require assisted care. The actual cost depends on the kind of community and support you're looking for. It also varies from state to state according to the local regulations and laws. However, the assisted living fee per month comes to around $3000 to $4000 in America on average. In some areas of the country, it can go up to $5000 each month! The good news is that the fee can be reduced by opting out of certain services that your loved one doesn't need.
Q2. Does Medicare cover the cost of assisted living?
It often comes as a shock for the families of the seniors to find out that Medicare doesn't cover the cost of senior living communities. Medicaid waivers can be used to get discounts in some communities, but generally speaking, it cannot be used to finance the stay. Medicaid program was created only to assist in the payment of services that are medical such as hospital bills, rehab stay, or doctor's appointments.
Q3. How can I pay for assisted living care for my loved one?
Paying for assisted living communities for years can be quite overwhelming. However, there are a few options available that families of the seniors can use to help pay for the costs:
Health insurance:
Obtaining a health insurance policy that covers assisted living costs at the time when it's needed can be hard. However, adding coverage for long-term care and assisted living costs when you first purchase health insurance is the best option. The insurance covers most of the costs and is the least expensive option for senior care.
Out of Pocket:
This option is mostly available to seniors who have significant savings or substantial retirement accounts. They can opt for paying partial or the entire cost out of their own pockets. This way they can also keep the assets they own.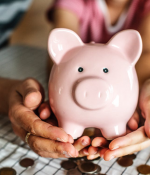 Selling the House:
In most cases, once a senior is moved to the assisted care community, they no longer have any need for their home. This provides an opportunity for them to sell their home to pay for the costs of assisted living care. For this to work, the house must be free of any previous mortgages so that it can be sold and the value obtained can be used to pay for care.
Veteran Benefits:
Eligible seniors can also take advantage of the Aid and Attendance Program offered by the United States Department of Veteran Affairs. The program was developed to assist veterans in financing senior care for themselves or their spouse. A lot of families and children of seniors who require care aren't aware of this program and miss out on valuable financial assistance.
Talk to an expert!  
Understanding the different options and the ins and outs of financing senior care can be confusing. Get in touch with senior care experts at AvantGarde Senior Living and Memory Care any questions or queries regarding your avenues for financing a loved one. Our assisted living and retirement community offers comprehensive care for seniors in Sherman Oaks, California.
Contact us at (818) 881-0055 or take a virtual tour of our premises.