Assisted Living or In-Home Care: How to Decide?
It's estimated that the population of older Americans will increase dramatically as the Baby Boomers age in the next 10 years. The year 2030 will see a turning point for the U.S. demographics with one in every five residents being of retirement age.
Assisted Living or In-Home Care
As we age, many of us have to let go of our independent lifestyle as our aging body requires more attention and care. However, growing awareness and concern for the senior loved ones has given rise to a variety of care options for older adults.
Some people prefer to remain in their own homes with the assistant of caregivers to help with their daily tasks. Another option is assisted living communities that provide a living space with a 24-hour staff available for daily physical and medical assistance.
By the time people reach the age of retirement, they tend to ask themselves whether they can receive proper care in-home or if it would be better for them to move into an assisted living community.
Here a few critical factors you should consider before making the biggest decision of your golden years or for your loved ones.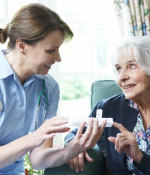 Medical Conditions
The percentage of Americans being diagnosed with dementia is increasing each year. Older people with some form of neurological disorder require constant care and attention. The benefit of in-home care is that it allows senior adults to live within the comfort of their home. However, in the case of certain medical conditions, they require help with taking medication on time and dealing with its side-effects. This can take a toll on the other residents of the house and trained staff might not be available at all hours in case of an emergency.
Assisted living communities have qualified doctors and medical staff that have been trained to deal with all kinds of symptoms related to dementia. They also provide care 24/7 and help the residents by improving their quality of life.
Isolation
As our loved ones grow older, they need the company of people their own age. Most seniors become socially withdrawn due to a lack of proper companionship and hence suffer from depression. Although in-home care allows seniors to stay with their family, family members are often unable to give them time due to demanding personal lives.
Assisted living facilities provide a loving and supportive community environment where seniors can thrive. They offer social events and communal spaces to encourage social interaction among residents to combat feelings of isolation which are common among seniors.
Daily Care
Depending on the health and physical condition of older adults, some may require constant care with their daily routines. Due to frailty, most senior loved ones are unable to perform daily tasks such as bathing, driving, doing laundry, cooking their meals, maintaining hygiene. In-home care might put a lot of responsibility on the loved ones without the help of 24-hour support staff. It's also difficult to keep things clean all the time when seniors live in their own homes, which creates a messy living space.
Assisted living communities have trained staff for general housekeeping, laundry, preparing nutritious meals, and assisting seniors with daily tasks. This allows seniors to maintain their independence without worrying about the menial day-to-day tasks.
Help Is Available!
For more information to help you decide the proper care option for you or your loved one, call the representatives at AvantGarde Senior Living and Memory Care at (818) 881-0055. We provide the professional and comprehensive care for seniors in our independent and assisted living community. Our staff is extremely helpful and compassionate while dealing with the elderly to help them live a more wholesome life!
You can also take a virtual tour of our facilities in Encino, California.