Assisted Living Facilities & Why We Need Them
According to statistics, it's estimated that 20 million Americans will be over the age of 85 by the year 2050. Medical issues such as dementia, depression, and illnesses are common among older adults. They require regular physical activity and proper care to help them maintain their quality of life.
Assisted Living Facilities:
While some older loved ones might be able to take care of themselves and live independently, most require assistance in going about their daily routines. Assisted living facilities are designed to cater to various personal and medical care needs for the elderly.
They provide a home-like setting to promote residents' independence while offering compassionate assistance with tasks such as preparing meals, taking medication on time, laundry and housekeeping, and medical emergencies.
Benefits of Assisted Living Facilities:
Although change can be hard for older people, assisted living provides a number of physical and psychological benefits that prove it's the best choice for your senior loved ones.
Safety
Assisted living facilities have a safe and comfortable environment specifically designed for older adults. According to the National Council on Aging, one in every four Americans over the age of 65 suffers from a fall each year.
Falling is the leading cause of injuries that are fatal for senior adults. Living facilities provide constant monitoring and assistance to prevent injuries while the seniors go about their daily tasks. The facility is also secure to prevent any older person getting lost or being vulnerable to attacks or scams from opportunists.
Meals and Hygiene
Senior loved ones that live alone often wind up not getting proper diet as they are unable to prepare he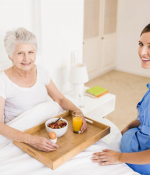 althy meals for themselves. Their appetite also tends to diminish as they don't like eating alone. This contributes to a rapidly deteriorating health as they don't get the nourishment their aging bodies require. Assisted living communities provide hot, freshly-prepared meals to the residents in a warm and friendly environment daily.
The staff also takes care of laundry and basic housekeeping to make life easier for older adults. In case any resident requires assistance with bathing and putting on clothes, assisted living communities have properly trained staff that can help with that.
Social Life:
According to a report by The National Alliance on Mental Illness, out of the 35 million Americans over the age of 65, depression affects over 6.5 million people. One of the leading causes of depression is a change in social life. Senior loved ones often become withdrawn after a loss of their spouse or because they live alone. Isolation is a major factor for depression and poor health.
In assisted living, residents feel like they are a part of a supportive and loving community. They get a better chance of socializing being surrounded by people their own age. They have access to social activities and community events where they can enjoy the company of their peers.
To learn more about assisted living and senior care benefits, get in touch with AvantGarde Senior Living and Memory Care. We are a luxury senior care community with a qualified and compassionate staff trained to provide comprehensive care for your loved ones!
Contact us at (818) 881-0055 or take a virtual tour of our facilities in Encino, California.